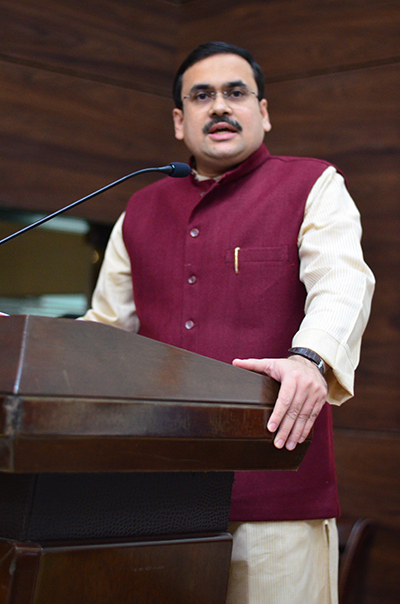 Dr. Anirban Ganguly is the Hony. Director, Dr. Syama Prasad Mookerjee Research Foundation (SPMRF), the think tank of the Bharatiya Janata Party (BJP) (www.spmrf.org). He is Member, BJP, National Executive Committee (NEC). He has extensively worked in the areas of public policy, political research, ideological issues, etc.
Dr.  Ganguly is also a  scholar of civilisation,  history,  politics  and culture and was a Member of the Central Advisory Board of Education (CABE), Ministry of Human Resources Development, Member of the Indian National Commission for Cooperation with UNESCO (INCCU) MHRD, GoI, Member of the Governing Board of Auroville Foundation (MHRD), Member of the Visva-Bharati Samsad (Court), Santiniketan.He is also a member of the Nehru Memorial Museum & Library, Society, Ministry of Culture, GoI.
Dr. Ganguly had his early education at Sri Aurobindo International Centre of Education, Puducherry and holds a Masters in International Relations, a Post- Graduate Diploma in Mass Communication & Journalism and a Ph.D. in education from Jadavpur University, Kolkata.  He lectures in various leading universities and institutions across the country and has extensively travelled across the world and spoken at a number of think tanks & conferences.
Dr. Ganguly has authored/edited/co-edited the following books, "Modi 2.0: A Resolve To Secure India" (2021), "Dattopant Thengadi: The Activist Parliamentarian" (2020), "Amit Shah and the March of BJP" (2019), "Making of New India: Transformation Under Modi Government" (2018), "Syama Prasad Mookerjee:  His  Vision of  Education" (2017),  "The  Modi  Doctrine:  New Paradigms in India's Foreign Policy" (2016), "Redefining Governance: Essays on One year of Narendra Modi Government" (2015), "Swami Vivekananda, Buddha & Buddhism" (2014) "Debating Culture" (2013), "Education: Philosophy & Practice" (2011). He has authored numerous papers, chapters and monographs on civilisational issues, politics, education and culture. He also writes regular columns.