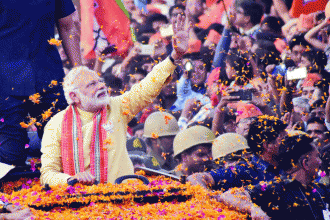 by
The surprise or the umbrage by BJP's rivals is primarily because in the last 10 years, we have lost the habit and sense of seeing a Prime Minister actively and vigorously participate in the electoral process
As the campaigning in Uttar Pradesh drew to a close on the evening of March 6, one could not help but feel surprised at the manner in which some elements — both political and in the media — reacted to Prime Minister Narendra Modi visiting his constituency during electioneering. The reaction, always extreme when it comes to anything that Modi does, took umbrage at the fact that the Prime Minister, who is a sitting Member of Parliament representing the Varanasi Lok Sabha constituency, visited his constituency, decided to visit its many sections, mingled with his constituents and spent a good amount of time criss-crossing the area and in addressing political meetings, meeting intellectuals and plain simple driving through its many alleys.
It did not matter that it was the Prime Minister's democratic right to spend time with his constituents and to actively participate in the ongoing election campaigns not only in his constituency but across the State.
The surprise or the umbrage is primarily because in the last 10 years, we have lost the habit and the sense of the taste of seeing a Prime Minister actively and vigorously participate in the process of elections. One is reminded of BJP president Amit Shah's repartee when asked why the Prime Minister Modi was so actively and energetically working in these elections: "It is but natural for him to actively energetically participate in elections. Apart from being our tallest leader, he is today the most popular leader."  He added, "Elections are festivals of democracy and participation in them and a deep involvement in them are but natural. People have forgotten the fact that past Prime Ministers have all, always actively participated in elections across the country. This trend has come down to us from Nehru. Such active participation is a legitimate exercise of democracy and just because in the last 10 years one hardly realised that we had a Prime Minister, especially during elections, does not mean it cannot happen."
Moreover, it was "also the right of the Prime Minister to go out on such occasions and directly speak to people about his work, of the promises fulfilled", Shah signed off.
A section, with access and control of media resources, which has always pledged allegiance and loyalty to Modi's political and intellectual opponents and adversaries, always resists the conferring on Modi of his legitimate democratic rights. For such people, nothing that Modi does or says can be right. Even when he says that there should be no discrimination when it comes to development and that the fruits of growth and of opportunities must reach all, going beyond denominational differences and dimensions, they have a problem with that and make sure that the message is killed.
Some off-track leaders, who have lost touch with the ground and now mostly live in a make-believe world of grouse and sulk, have also said that the road show was unnecessary and that the Prime Minister of the country should not indulge in it. This is again a blatantly facetious position which is being bandied about, especially by those who have never been exposed to grassroots activism and who have never succeeded in developing a clear understanding of our democratic process, despite holding public office at the union level.
The flavours and the energy of Prime Minister Modi's connect to his constituents, his travels to Varanasi, his mingling with his voters, continue to remain undiminished. Their symbolism, power and appeal remain as they were when Modi first visited the city and declared that he had come from the land of Somnath to serve the people of the region and that "Maa Ganga's" call had pulled him there. His engagement with Varanasi, his reiteration of all that Varanasi symbolises in the civilisational consciousness of India, his reference to Varanasi's eternal strength and energy while addressing a public meeting on the Kashi Vidyapeeth grounds, are by themselves a reiteration of the centrality of Varanasi in India's civilisational quest and in her civilisational self-renewal.
While a section in the West — represented by a certain media type — has seen Varanasi as a city of the dead or of dying, Modi's presence, his commitment and his allegiance to spirit of Varanasi is a reiteration of its actual position in the Bharatiya psyche. For Modi, Varanasi is symbolic of India's regeneration and he is not diffident in articulating that conviction. It also brings out the perennial karyakarta in him, the grassroots political worker who never tires of connecting, of conveying the message, of ceaselessly perambulating among his people for whom his presence, words and emotional involvement is all that matters. The last few days in Varanasi, in Modi's movements and his actions, one could discern that karyakarta, trained as which he had begun his journey of public work and service.
The last three days of the electioneering in Uttar Pradesh that he spent at Varanasi, Modi spent it like a worker, a mentor and more importantly as one who has actually spent years among the people in actual political work. His visit to Garhwa Ghat Ashram, his walking down to Lal Bhahadur Shastri's house and spending time there, were all expressive of this deeper impulse — that of being essentially and quintessentially a worker, intrinsically linked to the ethos of the land and its people.
Disconnected and self-styled 'liberators' like Rahul Gandhi will scarce understand the dimensions and realities of such a link. Parachuted leaders, with dynastic allegiances, who have never had to sweat it out in the dusty and often clashing preparatory fields of Indian politics and who, having become leaders by chance still struggle to perform the duties that leadership enjoins, would do well to desist from commenting on this connect that Prime Minister Modi has repeatedly demonstrated.
The results of local election in Maharashtra and Odisha — in Odisha, interestingly, the BJP did spectacularly well, especially in the backward districts, signalling the aspiration for amelioration and change among the people of the area — have all demonstrated a sense of the collective mind that a leader like Narendra Modi possesses. When the battle for Uttar Pradesh is done and won, it is this that will continue to exercise and drive the people to seek betterment.
The repeated bombastic yet churlish references to Bollywood, the demented observations on patila and coconut juice, the 'erudite' comment by an Indian economics professor based abroad, that Modi's is a minority Government, and the whole lot of other trash aimed at Modi, will all fall by the wayside, roundly rejected and dumped.
by