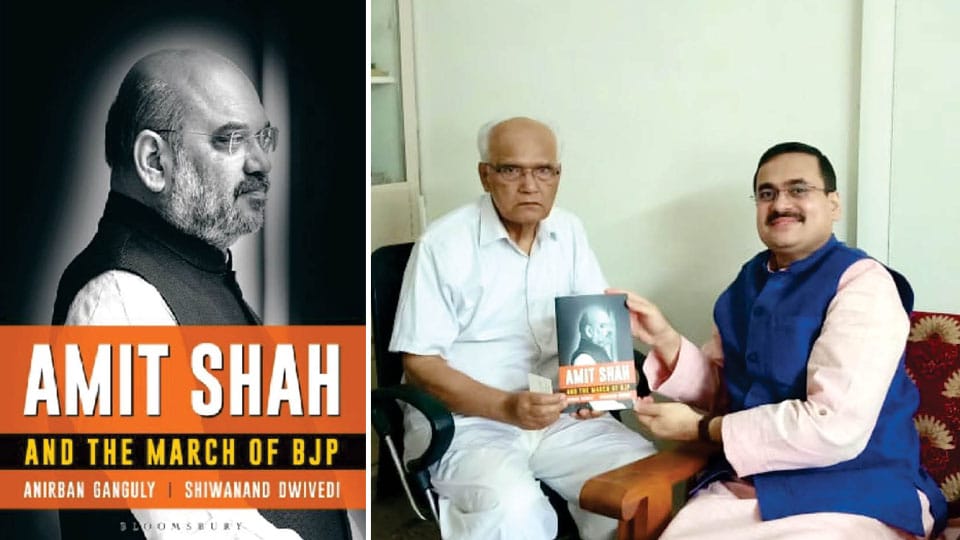 by
In Mysuru this morning, was honoured to call on the doyen of Kannada literature, philosopher, novelist and legendary public intellectual, Dr. S.L. Bhyrappa. Was delighted to present him my book 'Amit Shah and the March of BJP' and have a discussion on it," tweeted Dr. Anirban Ganguly on Sunday last.
When I met Dr. Bhyrappa the next day, he was seriously reading the book. As usual he had marked certain pages and had read almost 70 per cent of the book. "The book is quite interesting," he said.
Dr. Ganguly, who was in Bengaluru on some work, travelled all the way to Mysuru to pay respects to Dr. Bhyrappa and to personally present the trending book on Sunday. Ganguly has co-authored the book with Shiwanand Dwivedi. Ganguly gave me more input about the book post meeting with Bhyrappa.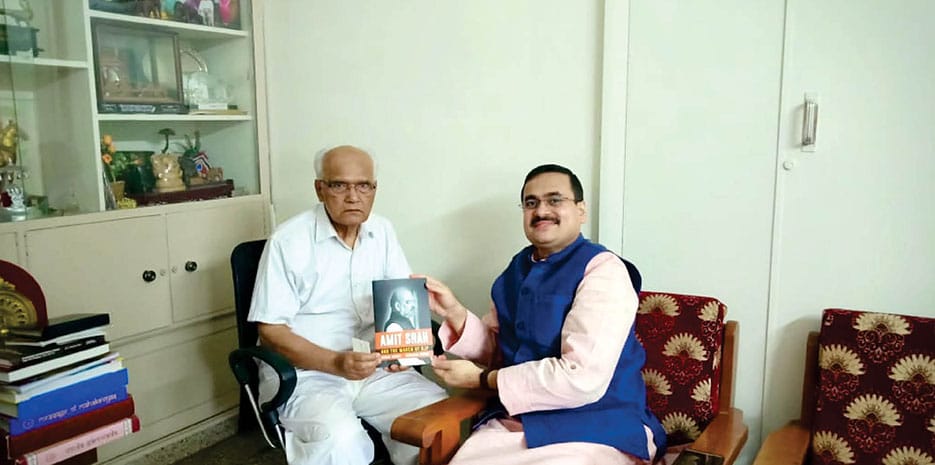 'Amit Shah and the March of BJP' is a book that according to Ganguly narrates the little known story of Amit Shah's political life, struggles, rise and triumph. For a leader who is often referred to as the Chanakya of Indian politics, who has dominated India's fast-paced and complex political stage since 2014, has altered its electoral map by leading the Bharatiya Janata Party (BJP) to successive historic victories post the May 2014 general elections, there is very little that is recorded or narrated. It's no surprise that the curiosity he evokes is ever on the rise, more so after the massive victory of BJP in recent Lok Sabha elections. Amit Shah comes forth as the principal trouble-shooter of Prime Minister Narendra Modi. Ganguly, however, quickly adds "electoral politics is only one dimension of his (Amit Shah's) personality, and our book certainly provides insight into a number of unknown dimension of his life."
Most of what is written till now about Amit Shah is based on conjectures, hearsay, assumptions and biases, Ganguly says. The real Amit Shah — once the booth-worker and now National President of the largest political party in the world, the master strategist who has pushed the BJP to an organisational pinnacle and yet talks of scaling peaks, a man who is unhesitant in his stand on Nationalism and on anything which concerns India's national interest — has remained in the shadows, self-effaced, away from the limelight.
The story of how he expanded the BJP into a pan-India party and the convergence of organisational science and ideology that has made the BJP a unique and formidable political entity is a story that needs to be told. The book narrates the personal and political journey of Amit Shah, captures the ideological world that shaped him and gives an account of the party that he is leading and shaping today. It is for the first time, Ganguly said, his story is being told — an authentic, no-holds-barred portrayal of Amit Shah.
In the foreword, Rajat Sharma, Editor-in-Chief and Chairman, India TV, says "Initially, the Delhi-based Lutyens' caucus saw Amit Shah as merely Narendra Modi's Man Friday. They saw Shah as the key person who can lead them to Modi. They never really tried to show beyond this. Only when he performed the historic electoral feat of winning 73 seats for BJP from Uttar Pradesh (2014) did they want to know him better…once Shah became the National President of the BJP, everybody wanted to connect with him."
The authors have discerned and argued that with his decades-long grassroots experience in organisation work for the party in Gujarat, wide administrative experience in the State, sharp electoral-strategic sense, minute understanding and grasp of policies and policy making and its impact on mood of the people, with his feel of the pulse of the people at large, Amit Shah has truly succeeded in turning the party into a bridge and an organism with a sense of social responsibility. That in itself has been one of his most distinct successes.
Ganguly, Director of the BJP's think-tank, Dr. Syama Prasad Mookerjee Research Foundation, enjoys impressive access to Amit Shah, a master strategist who is now the Union Home Minister.
A reviewer says: To the political worker, the observer and to anyone even remotely interested in Indian politics, irrespective of their profession or political leaning, more so since unfolding of Indian politics in the summer of 2014, this is a captivating exploration of the political life and journey of one of its central characters.
The book, published in India by Bloomsbury, has 14 chapters. The 296-page book priced at Rs. 399, starts from the chapter titled 'From the Lamp to the Lotus' and ends with the chapter '2019 and Challenges.'
[ By Prof. G.L. Shekar, former Principal of NIE, is the Hon. Secretary of S.L. Bhyrappa Sahitya Prathishtaana, Mysuru]
by