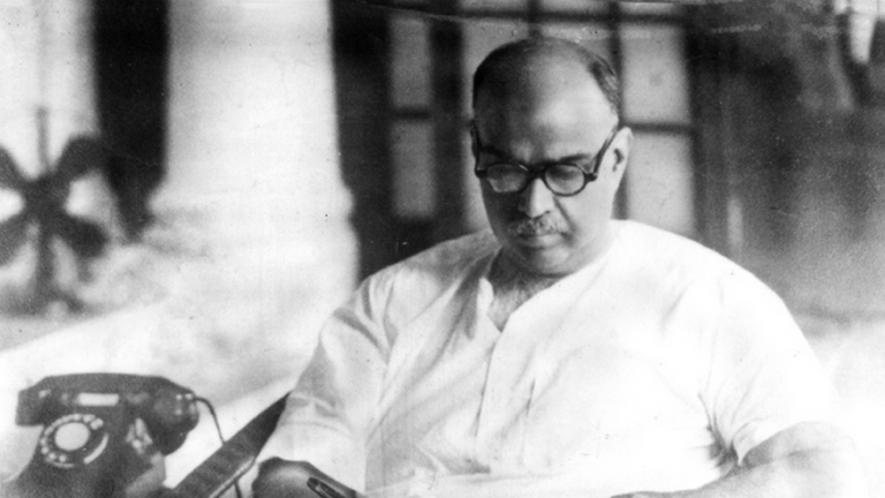 by
It is an asinine mind that tries to distort records, and through a Google search, attempts to disprove SP Mookerjee's contribution as India's first Industry and Supply Minister. His role in strengthening the handloom and textile industry in India cannot be overlooked
The dynamics of the exhibition (on the multifaceted aspects of the life and legacy of Syama Prasad Mookerjee at the Nehru Memorial Museum & Library in Delhi) is hardly intelligible to a group of so-called reporters and intellectuals who analyse such an exercise through prejudiced lens and have no idea of the very concept and purpose of public exhibitions. The attitude of some of these assessors in fact is hilarious as they pass themselves off as the guardian pack of the Nehruvian legacy yelping and yapping at anyone else being given even a miniscule due in nation-building.
In fact, a certain war historian attached to a publicly funded think-tank — not as adept at post-independent India's political history — without visiting the exhibition even once found howlers in it, while a callow reporter tried to prove with all her might, how Syama Prasad Mookerjee did practically nothing as free India's first Industry and Supply Minister and of how the steel plant at Bhilai could not have been built by him since it was set up in 1958.
The exhibition itself did not claim that Mookerjee set up the plant; it rather argued that he conceived it. Mookerjee's authoritative biographer Prashanto Chatterjee, probably among the few who has sifted through thousands of pages of relevant documents has this to say, "Mookerjee also conceived the plan of establishing a steel plant at Bhilai, 16 miles west of Raipur and nine miles to the east of Durg in CP, at an approximate cost of `88 crore and with capacity of producing 5,50,000 tonnes per annum. The CP Government was requested by Mookerjee's Secretary to find out the progress made in ascertaining the iron content of the iron ore deposits within the boundaries of the CP…"
Chatterjee clearly states "His dream of establishing a new steel plant to improve the quantity and quality of steel production in India was fulfilled in 1955 when an agreement for the Bhilai steel plant at an estimated cost of `110 crore came up…"
It is an asinine mind that tries to distort records and through a Google research attempts to disprove Mookerjee's contribution as Minister. For example, it is a fact that between 1948 and 1950 the "All India Handicrafts Board, the All India Handloom Board and the Khadi and Village Industries Board were set up to supply the much needed organisation and finance required by cottage and small scale industries to survive and develop."
Mookerjee took a keen interest in the working of his Ministry and made full use of the scope to make a difference in these sectors. In 1949 the Central Silk Board was established under the Central Silk Board Act LX of 1948, to improve the "Silk industry under Central control." One sees a clear pattern during this period, that of his constant attention to support, improve and innovate on industries that employed a vast number of ordinary Indians and in which India, some time back, was a recognised leader before being exploited and bled by colonial industrial policies.
To argue that as Minister for Industry Mookerjee played a leading role in pushing for these institutions in no way minimises the legendary Kamaladevi Chattopadhyay's role in reviving handloom in India. A normal and balanced mind would always look for the cooperative link between the two as the most natural approach in those early days. By highlighting the highlights of Mookerjee's achievements as Minister of Industry, the exhibition does not seek to down play contributions of other stalwarts.
Mookerjee himself was a great consensus builder, and one who could reach out to a large cross-section and seek their assistance and support and recognise expertise and ability. His ministerial record, his record of managing his Ministry is full of such instances. It is again only an asinine mind that would seek to place Mookerjee and Kamaladevi in a confrontationist mould. Mookerjee's contribution in strengthening the handloom and textile industry in India cannot be overlooked, it is a story which Google does not narrate but which his papers at Nehru Memorial Museum & Library in Delhi clearly point towards.
While he was occupied with heavy industries, Mookerjee also championed the cause of the small and indigenous industries. His intervention on behalf of the Tamil Nadu match industry, the woollen handloom industry of north India and the cotton handloom industry are cases in point. These would of course require a detailed study which is in any case beyond the capacities of the casual and callow observer or commentator. His attention for the indigenous and small industrial sector in India is a fact, simply because one does not want to soil one's hands in the archives does not mean it can be denied.
The war historian, mentioned earlier, found it amusing that Mookerjee was given credit for the division of Bengal and the exhibition did not blame Jinnah for it. Such a facetious argument obviously shows how little he knows of the story of Bengal partition, of how it saved lakhs of Hindus, allowing them to live a life of dignity saving them from being victims of anti-Hindu pogroms in east Pakistan and of how Jinnah bemoaned the fact that Mookerjee had outsmarted him and handed him over a moth-eaten Pakistan.
The exhibition displayed a Gallup poll, conducted and reported by Amrita Bazar Patrika, where over 98 per cent Bengalis voted for the partition of Bengal. It is common knowledge, though hardly accepted today especially by the communists and the Trinamool Congress politicians, that Calcutta and West Bengal was saved from Muslim League ravages because of Mookerjee, who stoutly refused to join the chorus of a "United Sovereign Bengal" sung by HS Suhrawardy and Sarat Bose and instead called for a division of Province and for a homeland for the Bengali Hindus who did not want to live and be part of east Pakistan.
In this demand of his Mookerjee was not only supported by leading Bengali intellectuals and public personalities of the day but also by the overwhelming majority of the state as well as the all India Congress leadership. He had, through his demand, blurred party lines. Those opposing him then and now were communists and Muslim Leaguers. War historians would do well to limit themselves to studying wars and not venture into the tricky, slippery and often contentious maze of partition politics. By indulging in rhetoric over it, they may risk losing themselves in a miasma of confusion and confused thinking.
by