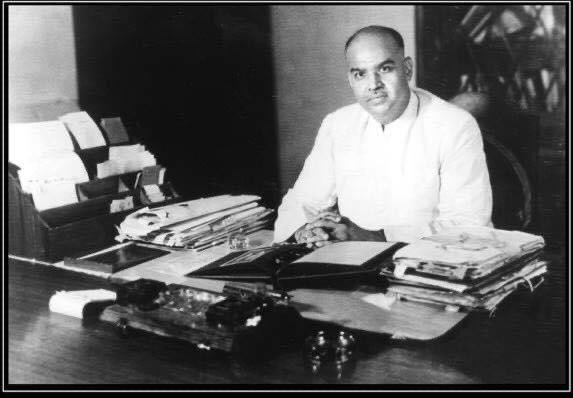 by
"Whatever you undertake, do it seriously, thoroughly, and well; never leave it half-done or undone, never feel satisfied unless and until you have given it your very best. Cultivate the habits of discipline & toleration. Surrender not the convictions you hold dear but learn to appreciate the points of view of your opponents." – Shyama Prasad Mookerjee 
Prime Minister Narendra Modi, today on the death anniversary of late Dr. Shyama Prasad Mookerjee, remembered him saying that his policies, his decisions, his resolve, and the fulfillment of his resolutions were very important in giving direction to independent India. 
Dr. Shyama Prasad Mookerjee was born on 6 July 1901 in Calcutta, in a Bengali Brahmin family. It was his grandfather Ganga Prasad Mookerjee, who had planned to settle in Calcutta. His father, Ashutosh Mookerjee was a judge at the Calcutta High Court and the Vice-Chancellor of the University of Calcutta. Shyama Prasad Mookerjee inherited the rich tradition of erudite scholarship, fervent nationalism, and fearlessness from his father. He was destined to be great. It was as much in his blood as he worked towards achieving it. 
Early life & Education: 
In 1906, Shyama Prasad Mookerjee took admission in Bhawanipur's Mitra Institution. He passed matriculation, in 1914 and got admission into the prestigious Presidency College. Known to be a meritorious student, he stood seventeenth in the Inter-Arts Examination in 1916 & secured the first position in English honors in 1921. 
Later on, he enrolled as an advocate in Calcutta High Court, post his father's death in 1924. For further studies, he left for England in 1926 to study in Lincoln's Inn. He became a barrister in 1927. 
Entry into politics: 
Shyama Prasad Mookerjee's entry into politics came at a very difficult time. However, that never got reflected in his conduct. And, that is what made him so great! In the words of Anirban Ganguly, the founder of the Shyama Prasad Mookerjee Research Foundation (SPMRF), the Congress was powerful in politics in the western part of the state of Bengal in the 1940s, yet hesitant to voice the rights of the Hindus. It often bowed down to the Muslim League pressure tactics. Thus, Shyama Prasad Mookerjee emerged as a torch-bearer of alternative politics in Bengal and as an eminent opposition leader at the centre.  
The role of personalities like N.C. Chatterjee (father of former Lok Sabha Speaker, Somnath Chatterjee), himself a well-known barrister at the Calcutta High Court, Ashutosh Lahiri, Justice Manmatha Nath Mookerjee, and Swami Pranavananda (Founder of the Bharat Sevashram Sangha) was imminent in Dr. Mookerjee's entry into politics. 
Formation of Jana Sangh: 
 The Jana Sangh was established by Shyama Prasad Mookerjee in the year 1951. The association later went on to become the parent body of one of India's prominent political parties, the Bhartiya Janata Party. It advocated the rebuilding of a strong, secular, and unified India.
Views on Article 370 & 35-A: 
 "Ek desh mein do vidhaan, do pradhan aur do nishan nahi chalenge" – Shyama Prasad Mookerjee 
 Shyama Prasad Mukherjee was an ardent critic of Articles 370 and 35A. He raised questions like why Jammu and Kashmir were kept out of the President's jurisdiction and why a special permit was needed to enter J&K. He coined the slogan- "Ek desh mein do Vidhan, do Pradhan aur do Nishan nahi chalenge [There cannot be two Constitutions, two Prime Ministers and two flags in one nation]", after J&K's merger into the Indian Union was passed. 
His role as a humanitarian: 
Dr. Shyama Prasad Mookerjee played a vital role during the 1943 Bengal famine. The people of Bengal can never forget the efforts of Dr. Mookerjee in organizing a large-scale relief drive for the famine-stricken people. He invited leading politicians, businessmen, and philanthropists to devise ways and means to provide relief to the needy and the distressed. As a result of his relentless efforts, the Bengal Relief Committee and the Hindu Mahasabha Relief Committee were formed.
Legacy:
Shyama Prasad Mookerjee breathed his last on 23rd June 1953. Until his last breath, he championed the cause of J&K's complete integration with the union of India. On 11th May 1953, he was detained at Jammu for crossing the border without an entry pass. He died 40-days after his arrest, under detention by the Kashmir Police.
In a life spanning a brief period of 52 years, Dr. Shyama Prasad Mookerjee (1901-1953) worked as a statesman, educationist, and political revolutionist. He had become the Vice-Chancellor of the Calcutta University at a young age of 33 years, independent India's first Industry Minister, the founder of the Jana Sangh, and a political stalwart.
His life is exemplary of how much one can achieve if driven by an unalloyed determination to serve India. Dr. Shyama Prasad Mookerjee worked relentlessly and wholeheartedly for the progress, unity, and well-being of his motherland. His contributions to nation-building and India's freedom movement are unparalleled. And, his memory shall forever remain etched in the hearts of the countrymen.
by